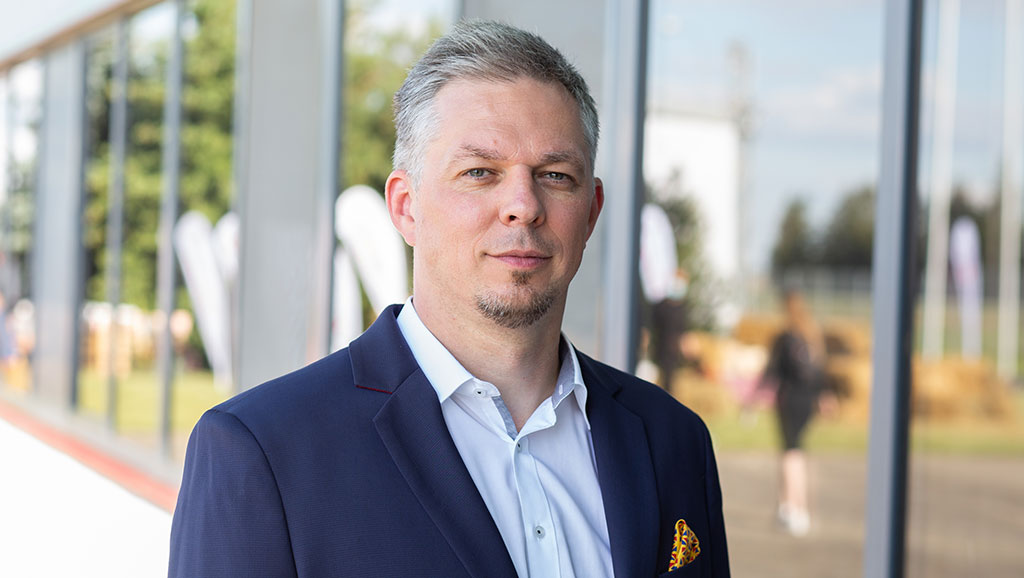 31 Jul

A business built to feed the future
Mindaugas Snarskis, CEO, Vikonda Group, provides his recipe for sustainable success in food, agriculture and retail
The evolution of Vikonda Group over the years has led it to become a market leader in the Baltic region. Could you introduce us to the group?
This year, Lithuania is celebrating its 30th anniversary of independence, which is also the 30th anniversary of Vikonda Group—we were established alongside the newly independent Lithuania. 30 years ago, we started with very diversified activities but the group turned to specializations in agribusiness and food production later on. Currently, the group unites 14 companies that focus on fast-moving consumer goods, food production, agriculture and retail. In terms of food production, we run the oldest cannery in the Baltic region that dates back to 1944. Currently, we produce more than 250 different recipes and seven categories of food products, ranging from canned vegetables and canned soup to ready meals, mayonnaise, tomato paste and so on. We are the food production market leader overall in Lithuania and export our products to over 30 countries around the world.
We also run a specialized ice cream factory that produces delicious ice cream from fresh raw whole milk and our company is one of the Lithuanian market leaders in that specific sector too. Exports account for 60 to 80 percent of that company's turnover, which is good ratio in the food production industry. Our main export markets are Germany and the U.S. and we are very proud about the global access program we run in conjunction with UCLA Anderson School of Management through which we created unique ice cream for the U.S. market to support our further growth from California, where our brand is already established, to other parts of the U.S. We also cooperate with famous sport brands, such the Borussia Dortmund football club in Germany and the Lithuanian basketball club Žalgiris. We produce ice cream for both of these teams.
Of course, COVID-19 has slowed down our export expansion in terms of opening new markets, however, this year we are aiming to send our first shipments of ice cream to Japan, where we are working closely with one of the biggest Japanese dairy companies to establish long-term cooperation.
With regard to agriculture, the group runs a farming company. We are one of the biggest farmers in the country, cultivating around 5,500 hectares of land, growing different crops in summer and winter, including wheat, rapeseed, sugar beets and industrial hemp. We use sustainable farming methods, such as no-till farming that leads to high productivity and better moisture preservation. We cooperate with scientists and agribusiness startups to further develop methodologies that help us to minimize our usage of fertilizers and preserve the soil. We need to be aware about the fact that the Baltic Sea is one of the most polluted seas in the world—this is why we want to be at the front of the market to show an example of sustainable farming that preserves the soil and the sea.
We also have a grain trading company that exports across the world through the Baltic Sea. In recent years, we have established ourselves as an organic grain trader and we want to further develop this direction of organic grain trade. We also have a smaller retail chain, which is located around the rural areas of Lithuania, and other smaller companies. For the past few years, agriculture and food production are our main directions.
Through a combination of steady growth and acquisitions, Vikonda Group has become an agricultural force to be reckoned with. What is your strategy for future expansion?
Our growth to date has been mainly organic and not the result of acquisitions. In terms of the future, some of our companies—for instance, our ice cream company—are ready for production expansion outside of Lithuania and we are currently looking for acquisition targets. If we take our ice cream producer as an example, we are one of the better established and most equipped in terms of manufacturing automation in the country. I see an opportunity for shortening value chains, not just for Vikonda Group but also for Lithuania to really step in and take a stake in operations if and when global businesses start to move their production from Asia to Europe.
What would you say are Lithuania's competitive advantages as an investment destination and which elements make it such a unique, safe and lucrative destination?
What I love about being Lithuanian is the fact that we are a small country in the geographical center of Europe, we are members of the European Union and of NATO. We have survived really tough times and have only been independent for 30 years but during that time we have developed our nation at an impressive rate. We have an educated workforce and a good opportunity to start exporting our products and services abroad due to the global shortening of value chains. This is why I think that we are of interest to international investors and will be even more interesting in the future.
Vikonda Group spotted a golden opportunity to create a vertically integrated supply chain that starts with organic agriculture and ends with healthy organic products. In a great example of U.S. and Lithuanian collaboration, the company Vikeda and UCLA Anderson School of Management created an organic ice lolly with super-berries, bio-available minerals, vitamins and fiber. What can you tell us about the strategic importance of the health-food market?
Generally, I very much believe that functional foods are the future of food production. At some point in the future, on the shelf of your local retail store or online, you as a regular consumer will have an opportunity to buy the products that really fit both your medical and dietary requirements. It is not only about organic products nowadays, it is more about sustainability and targeting health-conscious consumers. As an example, in 2018 our cannery signed an agreement with the Lithuanian Ministry of Health to reduce the salt and sugars in our products and we signed another agreement in 2019 to reduce them even more. I believe that each responsible business needs to acknowledge that, yes the consumer is king, however, at the same time big producers need not just to follow the trends but also try to create them and to do that toward more health-conscious and sustainable production. I think that the requirements for sustainably produced products and products that lead to better health will be the standard in the future.
Lithuania has drawn global praise for its handling of the coronavirus crisis. What is your personal view on how the country and its people rose to the challenge?
I would like to say that I'm very glad that my country managed the crisis so well. To be honest, we did have quite a favorable starting position in terms of the low level of traffic at our airports, as well as the fact that we are a small country. On the other hand, our government reacted really quickly and all the measures taken together with the positive response from society helped to keep the mortality rate low. What I'm even more glad about is that the business community and also business associations, including Vikonda Group companies, joined forces to support the most vulnerable members of society. I believe Lithuania, with its 30 years of independence history, proved that we can be united in times of uncertainty.
Do you have a final message for the international audience of Newsweek?
We are a company from a small and beautiful green country, located at the geographical center of Europe. We are country of well-educated people and Vikonda Group operates in sustainable way, producing and delivering the highest quality products around the world. We are flexible to our customers' needs, which helps us to open new partnerships and new markets. I want to stress that we live in times of real uncertainty and COVID-19 has pushed our boundaries. What I am very proud of—and this is a message for our current and future partners—is that we managed to develop a very solid strategy for our production that protects our employees and their families.