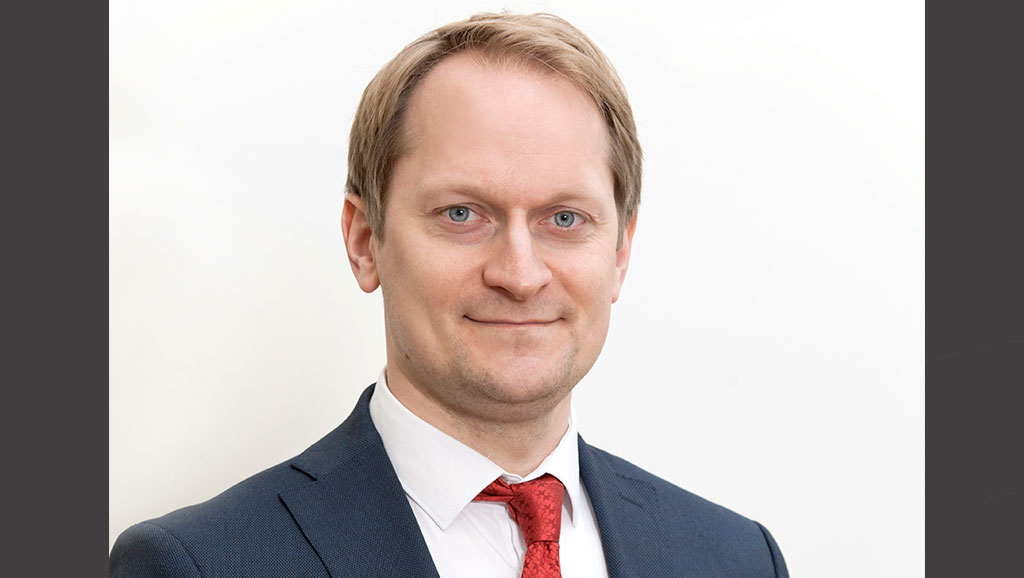 12 Jun

Huge investments planned for Lithuania's transportation and communication systems
Gytis Mažeika, Vice Minister of Transport and Communications, describes infrastructure projects that will cement the country's role as a European hub for trade and innovation
The shock of COVID-19 on the global transport sector has been unprecedented, especially in terms of the disruption of tourism and free movement. How would you assess the overall impact of the pandemic on Lithuania's transportation sector and what changes have emerged because of it?
This is obviously a very complex subject, which can't be fully explored in just a few sentences. However, I would say that the main impact so far has been felt by our air transport sector, where passenger numbers were cut by 100 percent—meaning a cut in revenues of 100 percent. As a result, our airports are currently using nearly €2 million every month from their reserves. With the slow opening up of flights, we can probably start recovering revenues before we deplete all our reserves. But I think that passenger transport in general has received a significant hit. In the maritime sector, for example, cruise liners had to be canceled. That was a major problem for us because this year we had an ambitious program in place that would have seen more than 100 cruise ships passing through our seaports. That is a historically big number and we had very high expectations for that until, unfortunately, they had to be canceled.
Passenger transportation also had to be cut on railways. Initially, passenger flow was cut by 80 percent. It has since risen to around 50 percent of normal traffic but that is still very low. On the positive side, however, cargo volumes have not declined as much. Overall cargo movement did not stop and I think we have learned a lot of lessons from that. We also learned how to improve the efficiency of our intermodal transportation network. During the crisis period, we initiated several pilot projects with our Polish partners—we transported a pilot train of semi-trailers from Germany to Lithuania through Poland, for instance. At the beginning of the pandemic, we also cooperated with our Polish partners to provide a special repatriation train that crossed Poland. Through that, we transported many Lithuanian other Baltic citizens to Lithuania so they could return home. These positive lessons give us motivation to look for more cooperation with partners and with our neighboring countries. In general, although the impact of coronavirus was devastating in some areas, in others there were lessons to be learned and conclusions to be drawn. As a result, I am quite positive about the future.
A few weeks ago, the Lithuanian government announced its "DNA of the Future Economy" plan, in which it commits to investing €1.8 billion on top of €4.5 billion that has already been pledged as part of a COVID-19 economic stimulus package. Can you tell us a little bit about investments that will be directed to transport and communications?
The Lithuanian transport sector should receive nearly €800 million from planned European Union (EU) funds for 2021-2027. Moreover €322.8 million will be allocated to the transport sector as part of the DNA economic stimulus plan and that will be invested by December 2021. This is a very ambitious investment agenda that focuses on several aspects. One is classical, hard infrastructure projects but with a substantial emphasis on green modes of transportation.
One of the key investments in the near future is Rail Baltica and railway electrification is another major investment project. We also plan to invest heavily in our seaport infrastructure and we are focusing on smart and sustainable mobility solutions as well.
Let's talk a bit more about Rail Baltica: an ambitious greenfield, 870 kilometer, high-speed, electric and intermodal passenger and freight rail system that will connect Lithuania with Latvia, Estonia, Poland and, indirectly, Finland, and integrate the Baltic states with the European rail network by 2026. I know the government is currently accelerating the land acquisition in order to move the project forward but could you provide us with a snapshot of this key infrastructure project?
Rail Baltica is known as the project of the century in the Baltics. It is not easy to measure the exact overall impact the project will have, but I will try and explain it from several perspectives. One is, of course, the economic benefit. This is, in every way, a European-standard railway. So, it is fast, comfortable and has huge traffic potential. It will also change the way the railway business is performed in the Baltics and dramatically change the world's transportation flow from east to west. I'm really looking forward to the resultant increase in competition, operators, passengers and freight.
Aside from the economic benefits, there are also security and military benefits from the railway. Our cooperation with NATO is not just symbolic for Lithuania. We have had long discussions about Rail Baltica with our allied partners and military colleagues, who are also looking forward to its completion. For them, this is a major infrastructure project that will enable the smooth deployment of equipment and allied troops. Finally, there are symbolic elements to the project, which will solidify the fact that, finally, we are politically part of Europe. It is something that we have been striving for over decades having already become part of Europe financially and in many other ways.
Alongside the Rail Baltica project, there are others, such as Via Carpatia, that are strategically important in terms of fostering tighter integration with the EU. Can you tell us more about some of the projects that aim to strengthen infrastructure, which have significant implications for the economy, trade and integration of Lithuania with other partners.
Initially the main initiatives were Rail Baltica and the Via Baltica road project. Now, due to the efforts of our Polish colleagues, we have added the Via Carpatia road project. Via Carpatia and Via Baltica are both situated in Lithuania—however, its impossible to talk about them in relation to a single country. The Via Baltica is a major motorway that links Lithuania and the Baltic countries to Warsaw in Poland and then to the rest of Europe via Berlin. The Via Carpatia project goes to the south of Europe. The logic is simple—if you don't build the infrastructure to new regions, traffic will never go there and if there is no traffic, there is no economy.
We are also focusing on the digital side of infrastructure—on the development of new digital infrastructure and on the creation of 5G international corridors. We are currently discussing the details of this possible project with our Estonian, Latvian and Polish colleagues. We want to build a 5G corridor that runs in line with the Rail Baltica corridor and with the road corridor between the countries. We anticipate significant synergies between transport and 5G's digital potential.
5G is, however, very different from our other infrastructure projects. It requires very close cooperation not only between countries and governments but also between operators. We do not want to just build a public investment—it is not about that. We are focusing on private-sector involvement and bringing in investors eventually. So, in this area, we see the government's role as being to coordinate, steer the discussion, facilitate when necessary and to ensure that these things are being done in all involved countries.
The Port of Klaipėda provides a key access point into the Baltic region and is one of Lithuania's strategic transport hubs. It also harbors a liquefied natural gas (LNG) terminal that contributes to the region's energy needs. As Lithuania's maritime gate to the world, what is the status of new investments in the port and its interconnections to other landlocked intermodal hubs?
In the last 12 months, cargo movements at the Port of Klaipėda decreased by 7 percent in comparison with the previous year. That is not just linked to the COVID-19 crisis but also to changes in the other economies around us. We always try to measure Klaipeda not as a single part of the Baltic region but as a major piece of the international transportation network. What I mean by this is that, although there has been a decrease of 7 percent in cargo, at other ports in the region and further afield the decrease has been twofold. So, Port of Klaipėda is still a very competitive facility.
Despite the COVID-19 crisis, we are optimistic about the Port of Klaipėda's business and, if it continues growing as it has in recent years, it is only a matter of time before the port reaches the limits of its capacity. That means we have to build more infrastructure and we have now adopted a master plan for the port's development. The total value of the investment linked to the master plan amounts to €1.2 billion euros, which has to be made within a decade.
From our perspective, there is one element of the master plan that is key to the long-term competitiveness of seaports. That element is the construction of outer ports. If we are to substantially expand the Port of Klaipėda, we have to build an outer-sea deepwater port. Initially, we calculated that this project alone would amount to nearly €1 billion. The government does not think it should be doing this alone and wants to find a strategic investor. We are looking worldwide for an investor with knowledge and understanding of global markets and cargo flows, and have been having intensive discussions with companies in the U.S., Europe and Asia. I anticipate that, within the next two to three years, we will have some key selected investors in place.
One of the focuses of the EU's Directorate-General for Mobility and Transport has to do with strategic infrastructure investments, digitization and sustainability. What is the role of your ministry in contributing to these overarching goals? Are you developing specific policies to boost these areas at this moment?
One of the elements, I have already mentioned: 5G is the future and we are aiming not only to develop one, single corridor project, we are rolling out a full strategy for 5G development that covers incentives together with some security aspects within a few days. Next week, the government should approve guidelines that will contain the elements that governmental institutions have to achieve to enable 5G infrastructure development.
The second side of digitalization is that we are focused on the elimination of the so-called digital divide. We want our infrastructure to reach the areas of the country that are less heavily populated and are rolling out broadband to the outermost parts of the country. We will not provide services to people—but we will rollout the infrastructure and cover that part of the costs for operators. This project started 10 years ago and is now in its third phase. With the fourth phase of the plan, we will reach into all the areas of the country. The third side digitalization concerns the opening up of data to make use of the infrastructure we have built. This is something that we are working on both as a ministry and a government.
When it comes to digitalization and data, it is not widely recognized that Lithuania hosts one of Europe's most important mobility-as-a-service providers. There are many mobility apps being developed in the country and this one has developed into a global business. Today, in three major Lithuanian cities, citizens can access a mobility-as-a-service app for free. It provides them with an integrated real-time service for car sharing, public transport, scooters, bicycles and so on, all in one single app. That one example of what can be achieved without making a heavy investment. The only thing that was needed was for cities and municipalities to open up their data.
It is also important, of course, to focus on green and sustainable mobility, and we want to promote sustainable urban mobility through planning. We are aiming to provide a huge investment program, part of our so-called operational program for EU investment funds. The investment will be based on planning in each municipality. Requirements for that planning will include clean public transport, low emission zones, electric vehicles, the relevant infrastructure and the planning of public transport versus car sharing.
We are not trying to promote green transport through technology only. Technology will save the world but we think it is only one part of the solution. What we really need, as far transport is concerned, are a combination of policy measures. Yes, we will have electric vehicles— but how they will integrate into the overall transport sector is something we are focusing on now and what we will be trying to build our strategy on for the next decade.