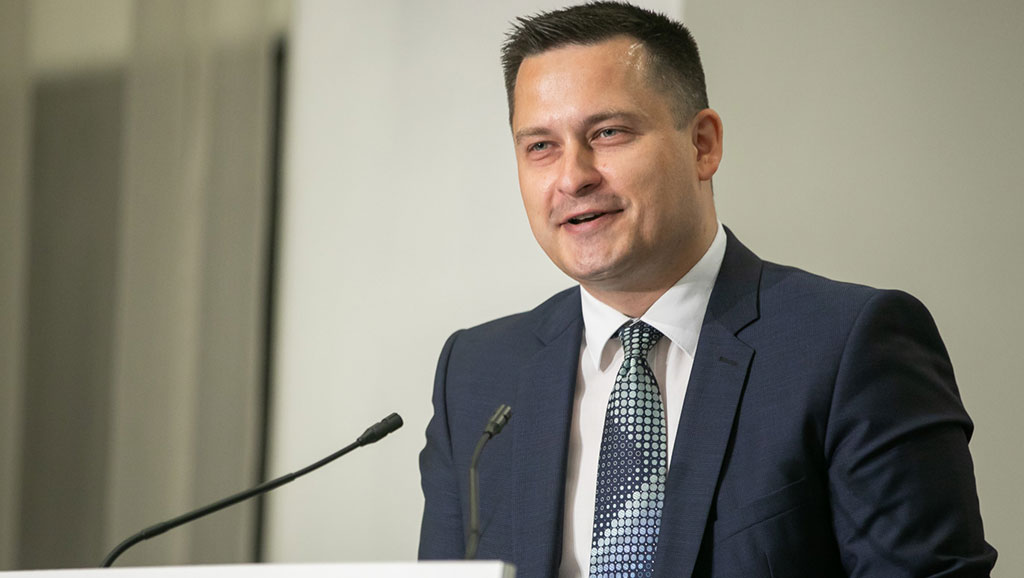 29 Jun

Lithuania becomes a world leader in the governance of state-owned enterprises
Vidas Danielius, Director, Governance Coordination Centre, provides a background to Lithuania's introduction of consistent and professional governance for SOEs
Talking in the broader context, we would like to understand your current assessment of the Lithuanian economy and your outlook for the post COVID-19 paradigm. How do you access the magnitude of the impact of the measures the government took to limit the pandemic's damage to the economy?
As you might know, Lithuania is one of the safest countries in the world in terms of the COVID-19 pandemic. It was among the first to reopen its borders and the first of the Baltic countries, although other countries are now following rapidly. The biggest measures from the government were, firstly to support the preservation of jobs within the country because, when an emergency situation like this is declared, remote working is not always possible. In complicated situations, employers may announce downtime or partial downtime, and the state has to be ready to contribute to the payment of wages to the employees. In this case, compensating the wages for such companies was one of the first measures the government introduced.
The state also introduced subsidies for social enterprises and allowances for self-employed individuals. We are now in a phase which is sort of post pandemic and the government has announced plans to dedicate amounts close to 10 percent of Lithuania's gross domestic product to implementing economic and financial instruments. The exact amount is around €5 billion. Again, this will be devoted to contributing to the preservation of jobs and the incomes of individuals and businesses, helping businesses keep their liquidity and boosting the economy. It's not one chunk of money that will flood into the economy within a month or so—it's a more long-term distillation to facilitate the economy as it runs on. The current expectation of economists around the country is Lithuania will see a V-shaped economic recovery curve. Unless, of course, we run into another phase of pandemic. In that case, we would be talking about the W-shaped recovery curve. But as it is right now, everybody tries to be positive about the future.
It has been 10 years since Lithuania introduced a reform of its state-owned enterprises (SOEs) and established the Governance Coordination Centre (GCC). What is the role of the GCC?
Founded by the government of Lithuania, GCC is the analytical center that aims to ensure a consistent and professional governance of SOEs. The center has a wide range of functions, most important of which are involvement in nominating the independent board and supervisory board members, overseeing the implementation of the strategic plans of every SOE, analytic reporting, aggregate reporting to the government of Lithuania about all the SOEs, assistance for the ministries like the Ministry of Economy and Innovation within SOE sector policy—and, of course, we act as a competence center and give our advice on matters concerning good governance to be introduced by any institution, including SOEs but also the government and the President of Lithuania.
This major reform started in 2010. One of the first things to change was the introduction of transparency guidelines in Lithuania, where the Ministry of Economy and Innovation was designated as the body responsible for overseeing the implementation of these guidelines. The founding of the GCC was approved a year later and, by mid-2012, the GCC was already working as a team. The main objective of the GCC is to promote the introduction of good governance principles in SOEs.
We have had significant growth in terms of both responsibilities and resources during the last few years. That was actually one of the Organisation for Economic Co-operation and Development (OECD) recommendations on Lithuania joining that organization. Since our accession to the OECD, GCC has been representing Lithuania within that organization on its Working Party on State Ownership and Privatization Practices. Being part of this not only achieved significant results nationally here in Lithuania but also contributed to the new practices that are coming from OECD, including some of its latest papers such as Guidelines on Anticorruption and Integrity for SOEs. Also, we are involved in new member accession processes, as we have a very recent experience of accession ourselves and are very similar to some countries that are trying to access the OECD right now.
Could you provide our readers with an overview of the current SOE portfolio in Lithuania and highlight your priority sectors and industries?
SOEs In Lithuania are distinguished between three separate sectors: energy, transport and communications, and forestry. A fourth group includes all the enterprises that do not fall into any of the first three sectors. The energy sector consists of six enterprises and they hold largest share of the portfolio—47 percent of its assets and around 58 percent of revenues. The transport and communications sector comprises nine enterprises that constitute around 33 percent of portfolio assets and about 29 percent of revenues. The third sector was actually represented by about 40 companies a few years ago but now contains only one company, the national forestry, which constitutes around 14 percent of our portfolio assets and just 6 percent of turnover. Today, we have in total 48 SOEs—although their subsidiaries are not considered SOEs, we also have 43 subsidiaries of SOEs. As you might imagine, the majority of the largest companies are infrastructure based and are important to national security, which is a feature in the energy, transport and telecommunication sectors.
We have noticed two particular trends, which we find appropriate and worth encouraging.
First, large infrastructural projects and investments can be efficiently implemented by our SOEs. We have seen the recent or ongoing examples of Klaipedos Nafta with their liquefied natural gas terminal, Lithuanian railways carrying the pan-Baltic Rail Baltica project and even Telecentras—the Lithuanian Radio and Television Centre—which at the moment is just starting to focus more on strategic infrastructure, which has a high impact for the whole economy.
Secondly, the SOEs tend to gather a vast array of expertise in their areas of operation, which allows for further monetization of this expertise by entering foreign markets in their primary areas of operation, by investing or by providing consulting services related to their already implemented projects. We foster this trend for the SOEs to go international, sell or invest their expertise and bring more money to the country.
On 5 July 2018, Lithuania officially became the 36th member of the OECD, marking a new era for Lithuania and its global competitivity. What can be said about the positive implications this will have on SOEs and the economy in general?
That was one of the greatest moments in the recent history of Lithuania. Not only after the accession of the OECD but just before it, a lot of changes happened in Lithuania and in the SOE sector particularly. Pending the accession to the OECD, Lithuania had undertaken intensive work related to the specific recommendations presented in the latest version of OECD Guidelines 2015. In the area of good SOE governance and throughout the country, lots of legislation and many mindsets had to be changed by that time. It was a successful process for us, unlike some other countries that have successfully joined the OECD before and were given more exceptions, Lithuania basically had to comply with each and every guideline that it holds. From there, especially in terms of SOE governance, Lithuania is now one of the world leaders as older members of the OECD are not pressured to implement those new guidelines‑whereas we, as one of the newest members, have implemented most of them.
Some of our figures are really spectacular. If we talk about the board independence we have now, for example, around 60 percent of all the board members within our SOEs are independent and about 66 percent of all the chairs of the boards are independent, which is dramatically higher than for some older OECD member countries. We are really proud of that. But, joining the OECD was only one step, now we are a full member and we must utilize everything that this organization has to offer.
Ideas, dialogue and everyday milestones are the essence of Lithuania's 2030 economic development Please give our readers an outline of the plan and how it aims to strengthen SOE ownership, improve board autonomy, streamline SOE legal frameworks and make disclosure standards mandatory?
 As I just mentioned, joining the OECD and being in the club of the best world practices on governing most areas of our life—including SOEs, of course—is very important but only the first step. We are now in the phase where we need to cement those principles that were introduced in legislation but are still very new. Sometimes we hear a few other opinions from some politicians—trying to roll something back or to change to something that is not in accordance with the best practices, and OECD stands firstly for best practices.
What we would like to see in the future is that the sector further evolves, and we continue with the good practices and raising the bar, which would be regarded as being at the forefront internationally. Current provisions regarding disclosure standards are already mandatory, not only in terms of regulation but they are fully implemented in practice. The streamlining of SOE legal and corporate forms is taking place and I expect that to be completely finished in the upcoming five years. However, the SOEs' ownership function and board autonomy improvement are the primary areas where noticeable change should take place. As I mentioned, board autonomy is arguably an implemented measure. However, we observe a negative trend among some politicians that have plans to destroy existing good practices. So, we must talk about board practices and governance maturity in Lithuania. It is changing rapidly right now. And, however strange it may sound, the governance practices in SOEs are usually exemplary in comparison to private-sector companies. What this means is that, despite changes in policies, the changes introduced less than 10 years ago remain fresh and it is still too early to call the underlying practices mature, given that many other countries have had 40 or even more years to address the changes in practices. As I said, we need to work more in that direction over time.
In terms of the strengthening of SOE ownership function, by participating internationally and seeing all the other examples, we notice a significant trend internationally to centralize SOE ownership, to utilize the expertise and to create competence centers. It is applicable in Lithuania also and is seen as beneficial. Currently, the centralization is made in terms of how many ministries are owners of SOEs, but in order to further utilize the potential we aim to further centralize the SOE ownership function. We now have 12 different entities that are owners of SOEs and we are talking about potentially only having one or two in the future. GCC could be potentially be an active owner of such SOEs. Sweden, Finland and Singapore are good examples of centralized SOE ownership function.
Do you have a final message for the readers of Newsweek?
I would like to borrow a slogan from our sister agency Invest Lithuania. Their slogan is "challenge me and I'll deliver." That sounds good to me with regard to how much we change, how quickly we adapt and how ambitious we are to get to the forefront, be that in SOE governance, telecommunications or basically any other field. So, take a closer look at Lithuania and you will be surprised!